FC Barcelona Stadium Tour
Visit the Camp Nou Experience – The fantastic home of one of the most successful football clubs in the world, FC Barcelona!
Average rating

5

Number of reviews
Certainly a must-do on your trip to Barcelona, even if you are not such a big football fan! Learn more about the amazing story of a football team that represents their city, region, and the Catalan language & identity with honour and pride. The ticket includes entrance to the museum, to the impressive Camp Nou Football Stadium and to the Multimedia Zone, where you can relive Barça's finest moments.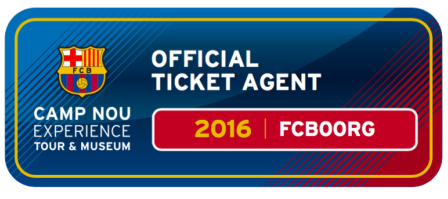 Opening Hours - Museum
Monday to Saturday, (from 4th April to 9th October) from 10 a.m. to 8 p.m. - Camp Nou Tour until one hour before the Museum closes. The rest of the year the Museum opening hours are from 10 a.m. to 6.30 p.m.
Sundays and public holidays, from 10 a.m. to 2.30 p.m. - Camp Nou Tour until one hour before the Museum closes.
On match days, it is not possible to visit the whole stadium. When there is a Champions League game, it is not possible to visit the stadium on the day of the match and also the day before.
ATTENTION: On Saturday 20th of August, the parts of the Camp Nou Experience that will be open will be as follows:
- Museum + Panoramic view of stadium: open from 09.30 to 18.15 (entrance until 18.00).
- The other areas will be closed all day.
Location
Avenida de Joan XXIII
08028 Barcelona
Metro to Maria Cristina or Collblanc


Go directly to the entrance. Bring your voucher and skip the waiting line. You do not need to drive to a special location for exchanging the voucher into the ticket!
Ticket is valid all year!

Tickets will be sent via e-mail!
Reviews
Rating

5

Review

If you're in Barcelona - whether you're a FC Barcelona supporter or not... GO THERE! If you're into football, you'll loooove it! Thanks, Matt

Rating

5

Review

Took the kids here. Money well spent! Thanks, Natalie

Rating

5

Review

Absolutely breath-taking! Camp Nou is a fantastic stadium. If you're a true football fan, you have to go to Camp Nou at least once in your lifetime. You won't regret it. Thanks Ticketbar for your help! - Adam

Rating

4

Review

My husband insisted that we do this tour while in Barcelona. I'm not really a football fan so I was prepared for the worst, but the tour was actually really good! -Sandra P.

Rating

5

Review

I took my boys here on for their last big day in Barcelona. They absolutely loved it! I highly recommend this tour! This was a nice, easy booking process too. Thanks, Ali